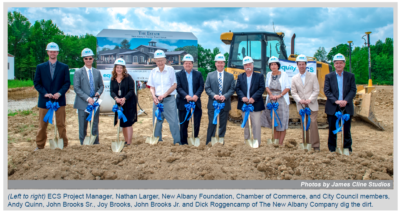 Equity Construction Solutions President Andy Quinn led the ceremony today that officially broke ground on The Estate at New Albany.  The occasion marked the launch of construction of a 14,000 square foot building on undeveloped land along a cul-de-sac at 5216 Forest Drive in New Albany. The Estate will be a venue for weddings, receptions, and social and corporate events, offering large outdoor patios and greenspace.
The 5.5 acre site was purchased from The New Albany Company by an affiliate of the Brooks family, successful operators of other event venues throughout central Ohio.
"After researching areas and sites in central Ohio for many years, this site in New Albany is the perfect combination of everything we are seeking—easily accessible, a beautiful wooded site, in a great community. We're enthused to be a part of the New Albany community," said Joy Brooks, Executive Director.
"This venue is calibrated to the New Albany area," ECS' Quinn states. "The quality design and well-thought out layout that has the building overlooking a new pond support our client's vision of creating a premiere event venue aesthetically pleasing to all New Albany residents."
The groundbreaking comes as the longstanding construction company ECS and its parent company Equity celebrates 30 years in the Columbus community and now nationwide. "Our growth over the past 30 years has been propelled by successful, expanding companies such as this Brooks family enterprise," commented Equity CEO and President Steve Wathen.  "If we serve them well they become repeat clients and we grow together.'
The Estate at New Albany is expected to be built by December, with a ribbon cutting scheduled for early December 2017.